Finale
[1] Auguste Dussourd 3-0 Timothy Brownell (USA)  11-9, 12-10, 11-6 (48m)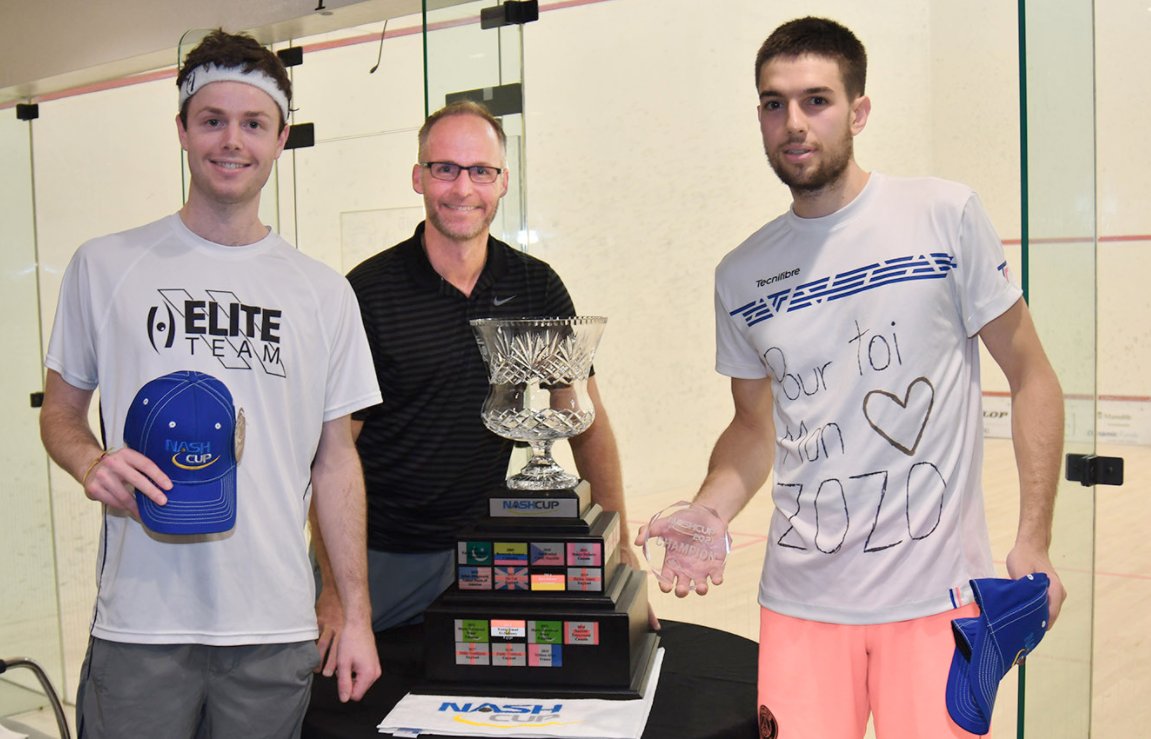 [su_divider top="no" style="dotted" divider_color="#1e73be" size="10″ margin="10″]
Demies
[1] Auguste Dussourd 3-1 [4] Daniel Mekbib (CZE)  7-11, 11-6, 11-7, 11-7 (46m)
Quarts de finale
[1] Auguste Dussourd 3-1 Simon Herbert (ENG)  8-11, 11-9, 11-6, 11-7 (41m)
[2] Vanessa Chu (HKG) 3-2 [5] Marie Stephan  12-10, 11-6, 6-11, 9-11, 13-11 (48m)
Comptes-rendus  du Nash (en anglais)
Dussourd, the 2019 Nash Cup Champ has previously never faced Herbert in PSA competition.
Game 1: Herbert to serve. With the first rally underway and lasting more than a few back and forth, the fans were excited to watch this, likely length match. Herbert had some fantastic gets, and some side wall nicks to keep the game close. Each rally lasting a on average of 10 hits, down 7-4 to Dussourd, Herbert tied it up 7-7.  Dussourd with a fantastic back hand hold drop to tie up 8-8, but a stroke awarded to Herbert put him up 9-8. A low forehand drive put him up 10-8 and followed it up with a low forehand wall boast winner taking game 1, 11-8.
Game 2: Herbert retrieved a seeming winner and battled back to take the first point. Both very strong front court players, an ensuing drop-re-drop-drop-re-drop-off took place making for a very entertaining start to game 2. 3-3 Dussourd serving, Herbert played back-to-back nicking forehand drop to take the lead 5-3, but Dussourd came back and tied it up 6-6. Very strong backhands from both players made for several exciting left wall rally with each shot seemingly tighter to the wall than the last. With a wall scrapping drop shot winner, Herbert tied it up 9-9, but two errors led to his game 2 demise, with Dussourd taking the game, 11-9.
Game 3: With a few early mistakes from both pros, the game was give and take, exchanging points until Dussourd took a 4 point lead 8-4. 5-8 Herbert, Dussourd made a great backhand-to-forehand drop followed by a backhand volley nick by Herbert making it 6-9.  Long rallys and many asks made for a very long game, which Dussourd took 11-6.
Game 4: With 3 missed drops by Herbert giving Dussourd a 3-0, but Herbert battled back to 5-5. Additional mistakes gave Dussourd control 10-5. A great drop kept Herbert in it 6-10, and followed up with a strong forehand making it 7-10, but ultimately after a very long rally Dussourd took it 11-7.
Final: Dussourd – 8-11, 9, 6, 7
Marie
The second of three matches featuring a player form Hong Kong features Vanessa Chu, Augusts PSA player of the month, taking on Marie Stephan of France. There ranks are close and so are their styles. Chu manages to take the opening game. Both players are quick to seek input from coaches and teammates.
Both players are comfortable running the rally up and down the same wall, but this is a similar style to what we say the Hong Kong men play and Chu seems to have an advantage if Marie doesn't make a change. Chu jumps to a 5-2 lead. Marie is intense. She has nearly a 6 inch advantage in height and uses it. This can also work against her as she draws a stroke to go down 6-7. Chu wins a series of rallies and takes the second game. The crowd, which includes well known LSFC members and crowd favourite professionals, begins to practice swearing in French.
Marie makes an equipment change between games and comes out strong. They fight to 3-3. Vanessa has to do a lot more running when the ball gets crossed. Marie realizes this, changes her game and jumps to 7-4 lead. If Chu drives, Marie crossed; if Chu crosses Marie drops. It's working. Marie is up 9-6. Marie takes the 3rd game. Somewhere in that game the front camera was hit…..we now pick up a great view of the inside of a box. 2 camera system now….
Game 4 starts and one has to wonder what Chu will change to bring the trend back in her favour. She looks to get aggressive with straight drops, but hits tin and goes down 0-4. The change starts to work as she holds and drives leaving Marie moving in the wrong direction 5-6. Vanessa may have things back in control. She's holding the T and hitting her winning smashes. 8-7. Marie goes back to moving the ball and regains the lead before taking a stroke 9-9. Marie takes the game, and we are going to 5 for the 3rd time tonight. Any hope of starting the final match of the night on time is gone.
Stephan is onto her 3rd shirt for the night. Nikki Todd this was a very relevant piece of information. Vanessa is on with her court control. She has accepted Stephan's cross courts and is countering with mixed paced drops which give her a 6-3 lead. Tin is her enemy, but she's hitting over 50% and buries a serve in the corner to gain a 7-5 lead. Stephan gains choice of shot in the next rally but finds tin. Another two drops and the second one sticks for Chu. 9-6. Two tins and a row and it's 9-8. The approach is right. The percentage has fallen. Stephan sees the next attempt coming and cuts it off to make it 9-9. Chu sends it high and Stephan is going for the win. We're 10-10!! Extra points in the 5th. Chu hits tin. She had every opportunity to close the point and caught the line. Then Stephan does the same with a drive. 11-11. Long rally with tin for Stephan. A drive down the wall and it doesn't come off the back. Chu wins 13-11 and takes the match.
[su_divider top="no" style="dotted" divider_color="#1e73be" size="10″ margin="10″]
Hannah Blatt (CAN) 3-2 [8] Lea Barbeau     8-11, 4-11, 11-6, 11-4, 11-9 (40m)
[5] Marie Stephan (FRA) 3-1 Laura Tovar (COL)  11-8, 11-7, 8-11, 11-8 (39m)
[1] Auguste Dussourd(FRA) 3-0 Connor Turk (CAN)  11-8, 11-6, 11-7 (30m)